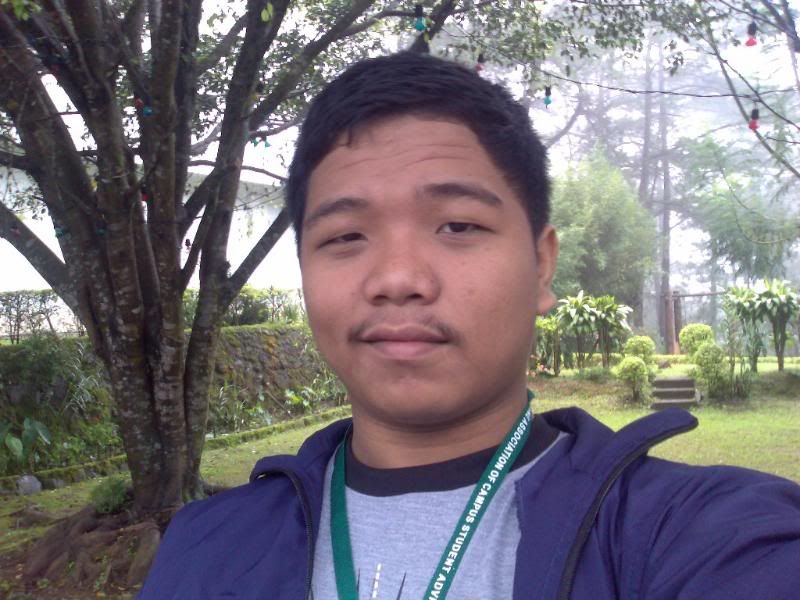 This was my very first entry on the original VJ Czar World blog. I decided to repost this just so you'll know me better. I hope you'll read it word by word.
Hello!
I guess it's better for you to know me more so you'll be aware of what you're gonna get from me. Allow me to introduce myself! :)
Where to begin...
I am Czar Rod Joven (in katakana, ホヴェン・ザルロッド), a new blogger of this old yet renowned blogging website. My high school and college friends (as well as the others) call me "Czar". At home and in my hometown, I am called "Khadaphy". I think that's a Muslim name suggested by my one of my late grandfathers. Yeah I got those sobriquets, but I prefer you to call me "VJ Czar". Wonder where that stuff came from? Well, don't ask me. I myself, don't even know where...Hehe.
But I do know where my first name originated. Actually, my real given name is "Czar Rod Bartolome". It was taken from the first names of my three grandfathers--Cesar, Rodrigo and Bartolome. However, because of the errors done by a nurse of Limso General Hospital, "Bartolome" was excluded in my authenticated birth certificate being issued by the National Statistics Office. I was really sad. I just found it out 15 years after the day I was born. I vowed to myself that I'm gonna retain my REAL name ASAP.
On the other hand, I just want you to know that I'm a citizen of the Republic of the Philippines. Sadly but proudly, I am a pure Filipino. But don't you get me wrong. I am not that proud of being such a being. I am a world citizen! I've got no nationalistic limitations.
I'm currently living in Davao City, specifically, in the northernmost barangay of Lasang. [FYI, Davao City's found in the southeastern part of the Philippines.] My father Raul, is a barangay kagawad (a councilor of the Philippines' smallest political unit called barangay) and my mother Lucila, is a social worker. Both of them were once being affected by local political bullshits (sorry for the word)...Don't wanna expound that anymore.
I have two brothers--John Raul II and Kirk Luke Raul III. I'm like confused about their names having "II" and "III", respectively. I haven't known any person named John Raul I, Kirk Luke Raul I and Kirk Luke Raul II, you know. Maybe it's because of the existence of "Raul". Whatever! Well, the former is a college graduate and is currently working as a web developer. The latter is still on his junior high struggle.
Let's get it on!
I was born on April 29, 1990 so, it means my sign is Taurus. My religion's Roman Catholicism. Height: 5'1", Weight: almost 70 kg...I can speak Filipino, Cebuano well, and English fairly. I got a bit of linguistic skills in Japanese language, too. I know how to write using the Kana characters and a little bit of Kanji characters.
I spent my elementary days at Alejandra L. Navarro Central Elementary School. I graduated there as a valedictorian (but in the invitation. I was like the "First Honor"). I pursued my studies at the Davao City National High School. That's the largest high school in Davao City that houses an average of 7,500 students. I was also proclaimed as a valedictorian at that time. It's kinda surprising but I guess...that's just me..ahaha!! :)
Currently, I am in college taking up Bachelor of Science in International Studies major in Japanese Language and Studies. The institution? It's Mindanao Kokusai Daigaku (Mindanao International College or ミンダナオ国際大学). However, as of this moment, I'm thinking of shifting to fields that I love better. Those are Environmental Science and Computer Science. I'm not yet sure regarding that matter. I'm still searching for signs.
When it comes to interests, I must say that music is my #1 love. It's a way of releasing my emotions. It's a way of telling things that I can hardly say to somebody. It's my friend, my confidant and my boo. I write songs since I was a sophomore high school student. So far, I've written 30+ songs using Sound Recorder or Adobe Audition 2.0. I'm pretty sure their melodies are original. The only problem is, I find it hard to play those melodies through a particular musical instrument. I mean, I don't have ample knowledge when it comes to playing stringed instruments, keyboard, percussions, etc. I guess it's better if I'll have a collaborator.
I'm also freakin' interested in surfing the web...or should I say, anything with relation to the internet. I always download stuffs...sounds, movies, e-books, name it. I can also webhost and create webpages in HTML (only..). I created the website with the URL http://nodebatch10.sitesled.com. It is currently under construction for I am so busy about my studies. Yeah, it's just a sub-domain. Don't have any bucks yet so I can have my own "www.blahblahblah.com".
Video editing then is my third love. The program that I'm using is Sony Vegas 7.0. I'm looking forward to learning Adobe Premiere's operations. I've tried it and I must say it's pretty complicated. If you wanna see one of my works, watch my version of Rihanna's "Umbrella" below.
Meanwhile, I have a huge interest in the entertainment industry...either internationally or locally. I don't know why but I find the need to disseminate news and even gossips about celebrities doing crazy things. Presently, Britney Spears is the most interesting newsmaker for me. I love and hate her actions. Kinda confused? Yeah! That may be the reason why she'd caught my most of my attention.
I also love Geography, Astronomy and anything about the environment. I can name all the countries of the world and their capitals as well. On the other hand, I believe in UFOs and the existence of aliens. I really love those enigmatic beings.
Since music is my supreme interest, I have a dream of becoming a performer. Yes, a performer...not a singer. Though I can sing (but not so excellently), I don't wanna isolate myself to just one thing. I believe that I am capable of dancing and acting so, why not do it all at the same time. I'm a performer (period!).
Below are links that will lead you to how I am working to realize my ultimate dream:
http://www.showcaseyourmusic.com/vjczar
http://profiles.friendster.com/vjczar
So, I guess that's it! Now you know what you're gonna get from me. If there are any infos that I missed, you may contact me here.
Got a lotta things to say here!