May 4, 2008-May 10, 2008

Before I go further, I want to apologize to all of you about this much delayed post. I was quite busy last Sunday and acted so lazy during the entire first week of May. Anyway, I still don't forget it, and I guess now's the time to give it to you.
Ladies and gentlemen, a round of applause for VJ Czar World's first Japanese Word of the Week—奇麗!
奇麗 is read as きれい (kirei). It is a Japanese word that means either of the following: beautiful, clean, nice, tidy, pretty and fair. きれい is also written in Kanji as 綺麗. But, this way of writing is not advisable for the first character is an outdated Kanji. Although 奇麗 can be used, most of the Japanese prefer the Hiragana writing きれい, probably because it is simpler and easier to write. However, if you want to impress others and feel like you're a genius, I recommend you to use the Kanji equivalent. To write it appropriately, follow the images below.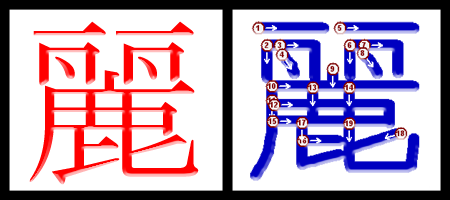 Here are some of the sentences that use
奇麗
.
私はとても

奇麗

です。 = I am very beautiful.

私 (わたし) = 

watashi

 = 

I

は = 

wa (topic indicator particle)

とても = 

totemo

 = 

very

奇麗 (きれい)= 

kirei

 = 

beautiful

です = 

des

 = 

am
彼女は宿題を

奇麗

に作りました。 = She made the assignment beautifully.

彼女 (かのじょ) = 

kanojo

 = s

he

は = 

wa (topic indicator particle)

宿題 (しゅくだい) = 

shukudai

 = 

assignment

を = 

wo (object indicator particle)

奇麗に (きれいに) = 

kirei ni

 = 

beautifully

作りました (つくりました) = 

tsukurimashta

 = 

to make (past tense)

いつも手を

奇麗

にしておきなさい。 = Always keep your hands clean.

いつも = 

itsumo

 = 

always

手 (て) = 

te

 = 

hands

を = 

wo (object indicator particle)

奇麗に (きれいに) = 

kirei ni

 = 

"cleanly"

しておきなさい = 

shte okinasai

 = 

must do/should do